Rental property maintenance in Dallas is something all property owners should prioritize. After all, you've invested a lot of time and money into your property. The last thing you want is for it to fall apart because you didn't take a proactive approach to maintenance and repairs.
And just think, if you stay on top of the minor issues that pop up, you'll be less likely to have to deal with expensive repairs in the future.
That said, it's easy to forget what you should be doing when it comes to property maintenance because you don't live in your rental. You also don't see your property every day like your tenants do.
Because of this, we're here to help. We've got a handful of easy maintenance tips to help you keep your Dallas, TX property in shape and make it last through the years.
How to Handle Rental Property Maintenance in Dallas
1. Perform Routine Inspections
No matter how far away you live from your rental property, you should be performing routine inspections to make sure everything is in working order. Ideally, you should perform seasonal inspections. This means checking up on your Dallas, TX rental at least 4 times a year.
Sometimes minor things will be wrong with your rental property and your tenants won't mention it. They might think it's not a big deal, may not want to bother you, or might not even know it's happening. But if these things go undetected for an entire tenancy, you could end up with a major repair on your hands.
Here are some things to look out for while inspecting your investment property:
Water leaks and damage
Broken windows or worn weather-stripping
Rotting wood
Full rain gutters
AC filters
Broken roof tiles
Cracked sidewalks
Unattended landscaping
If you inspect your rental property on a regular basis, your tenants will come to expect your visits. They might even become more aware when things start to break and be more willing to give you the heads up. Not to mention, your interest in the property will show your tenants you care about the home they live in. And trust us, come lease renewal time, this will make a big difference.
2. Establish the Rules
The problem with rental property maintenance in Dallas is that you can't always physically be at the property to take care of maintenance and repair issues.
But your tenants are.
A great way to keep your investment property in tip-top shape is to establish your expectations at move in time. This means laying down the rules about what your tenants' responsibilities will be and what you'll take care of when it comes to property maintenance.
For example, you might make your tenants responsible for things like:
Waste disposal
Pest control
Landscaping
Snow removal
Mold prevention
Smoke detector maintenance
In addition, you should make it clear to your tenants that if they have any problems, they are to contact you right away. If they don't, or are found to be neglecting their maintenance responsibilities, hold them responsible for any repairs.
The best way to make sure your tenants understand what they should be doing is to give them a welcome package at the start of their tenancy. In addition to small gifts, this package should have contact information and instructions for maintaining the property. This way your tenants can't say they didn't know the AC filters needed changing or that the leak underneath the sink could lead to mold.
3. Hire a Landscaper
If you don't want your tenants to be responsible for your property's landscaping, you should hire a landscaper to do it for you.
Your rental property might have an amazing garden in the backyard, large trees that need regular trimming, or seasonal plants and shrubs that need tending to. Because of this, it's in your best interest to hire a professional to help. Not only will they know exactly how to care for your yards, they'll save you tons of time.
The curb appeal of your rental property is something tenants look for when deciding where to live. The front yard should be inviting to anyone that stops by. And the backyard should offer a perfect place for your tenants to enjoy their family and friends during the warm summer months. If you let the landscaping go, your tenants will not like living there anymore.
And the value of your home will start to drop. Remember, something as small as adding trees to your property's yards can increase the value of your investment.
Not to mention, you risk things like improper water drainage, major pest infestations, foundation damage, and more.
4. Flush the Water Heater
Water heater maintenance is not something that you should have your tenants take care of. Not only is it dangerous, it will cost you a lot of money to fix any mistakes they make trying to flush it.
That's why once or twice a year you should have a professional flush your rental property's water heater. This will wipe away any sediment that has built up in the unit over time. A clogged water heater has the potential to flood your property and ruin your tenants' personal belongings. Plus, a flooded water heater will need replacing, which can be costly.
Here are some other ways to make sure your water heater is being cared for throughout the year:
Insulate it if it's an older model
Inspect the anode every few years
Check the temperature-pressure relief valve once a year
Make sure there is nothing blocking or crowding the unit
Adjust the temperature to 120 degrees to lower energy costs and prevent burning your tenants
Water heaters are a vital part of your rental property. It's worth the extra time and money to make sure it's well-maintained.
5. Hire an Exterminator
Even if you've outlined in the lease agreement that your tenants are to be responsible for pest control, it's not a bad idea to hire an exterminator to come out every few months. After all, your tenants might try to handle pest control on their own because they don't want the added cost of hiring an exterminator.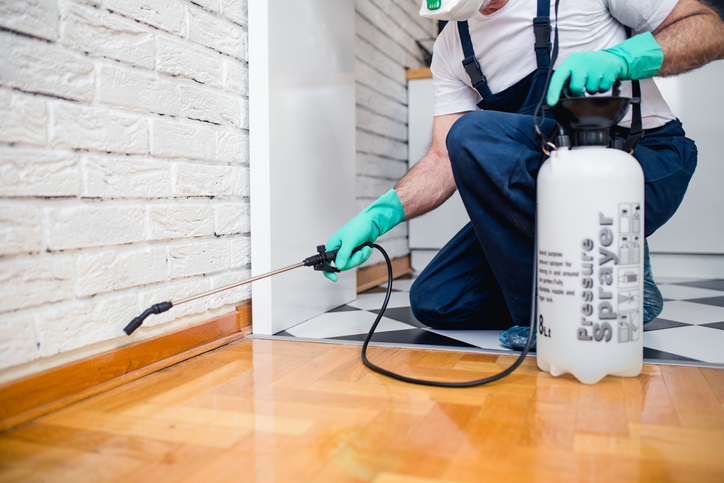 But what happens when they don't do a good job or fail to target a pest they don't know exists?
If your rental property becomes infested with rodents or pests, you can bet your tenants will not renew their lease. And if it gets bad enough, you might have structural damage and an unexpected vacancy on your hands.
So, help your tenants out a little bit and hire an exterminator. They'll appreciate your effort and your property will be safer because of it.
6. Take Your Time between Tenants
We understand that vacancies are unwelcome. They don't generate you any monthly income and can dip into your annual profits.
That said, taking some time between tenants to fix up your rental property will benefit you in the long run.
When a tenant moves out, make sure you inspect every aspect of your property and fix anything that needs fixing. This is only fair for the next tenant you place in your property. Plus, it will help prevent costly repairs in the future.
In addition, make sure your property is deep cleaned and freshly painted. This will help keep your rent rates high, encourage lease renewals, and help your property's condition over the years. And if your last tenants had a pet or did a lot of damage to the flooring, it's recommended you re-carpet the property too. Again, your new tenants will appreciate this, and it will help you keep your rental in the best shape possible.